I leave for London & Scotland in 4 days and I'm really excited about 10 days of only having fun. But these 4 days are cramped with work. I'm trying to schedule as much work as possible so that I don't feel guilty about the ten day break that awaits me. The next 4 days are packed with meetings, video shoots and a lot of baking. I made these oat-apple crumble bars because I wanted to eat something dessert-y for breakfast. They're made with whole-wheat, oats and not sugar. It also has fruit so basically makes for a great sweet breakfast option.  I, off course, beat the purpose by topping these healthy oat apple crumble bars with caramel sauce and vanilla ice-cream.
Oh and did I mention that these oat apple crumble bars are also egg less?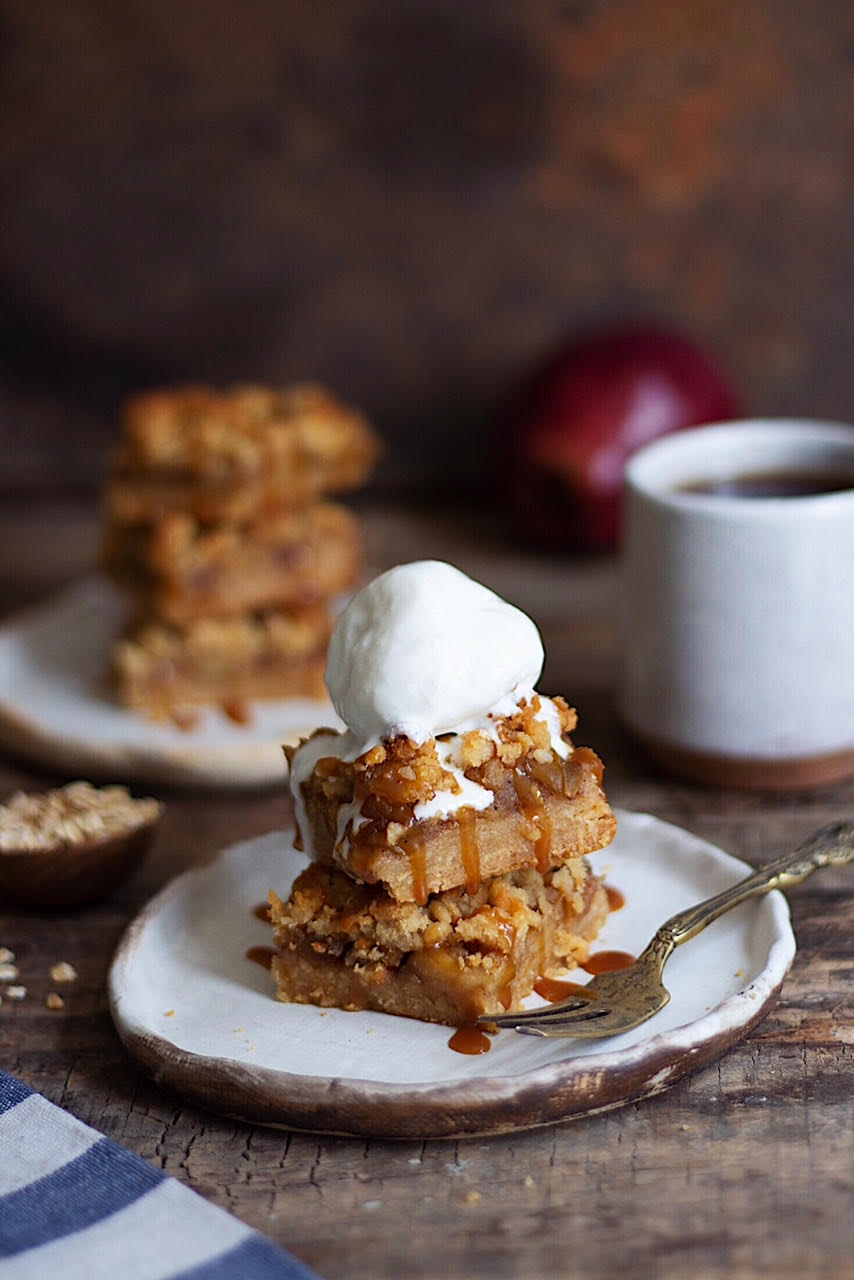 INGREDIENTS-
2 cups whole-wheat flour
1 cup oat flour
1/2 cup honey/ maple syrup
1 cup cold butter, cubed
APPLE FILLING-
4 large apples, peeled, cored and cubed
1/2 cup water
1/2 cup honey
1 teaspoon cinnamon powder
1/2 teaspoon ginger powder
PROCEDURE-
Pre-heat the oven to 180C. Line a 9X13 rectangular tin with parchment paper.
In a large bowl, whisk whole wheat flour and oat flour.
Add honey and mix well.
Use your fingers to incorporate cold butter into the flour. Mix until it comes together when pinched. Divide the dough into 2 parts.
Press one half of the dough into the bottom of the prepared pan. Use your fingers or bottom of a glass to press it down properly.
Bake at 180C for 10-12 minutes until the edges become golden brown.
To make the apple filling, cook all the ingredients in a saucepan set over medium heat until the apples begin to breakdown. The filling should not be runny.
Spread the filling on the baked dough in an even layer.
Crumble the second half of the dough and sprinkle it on the apple filling.
Bake at 180C for 25-30 minutes until the crumble topping is golden brown.
Let the bars cool completely before slicing them.
The post OAT APPLE CRUMBLE BARS appeared first on Bake with Shivesh.