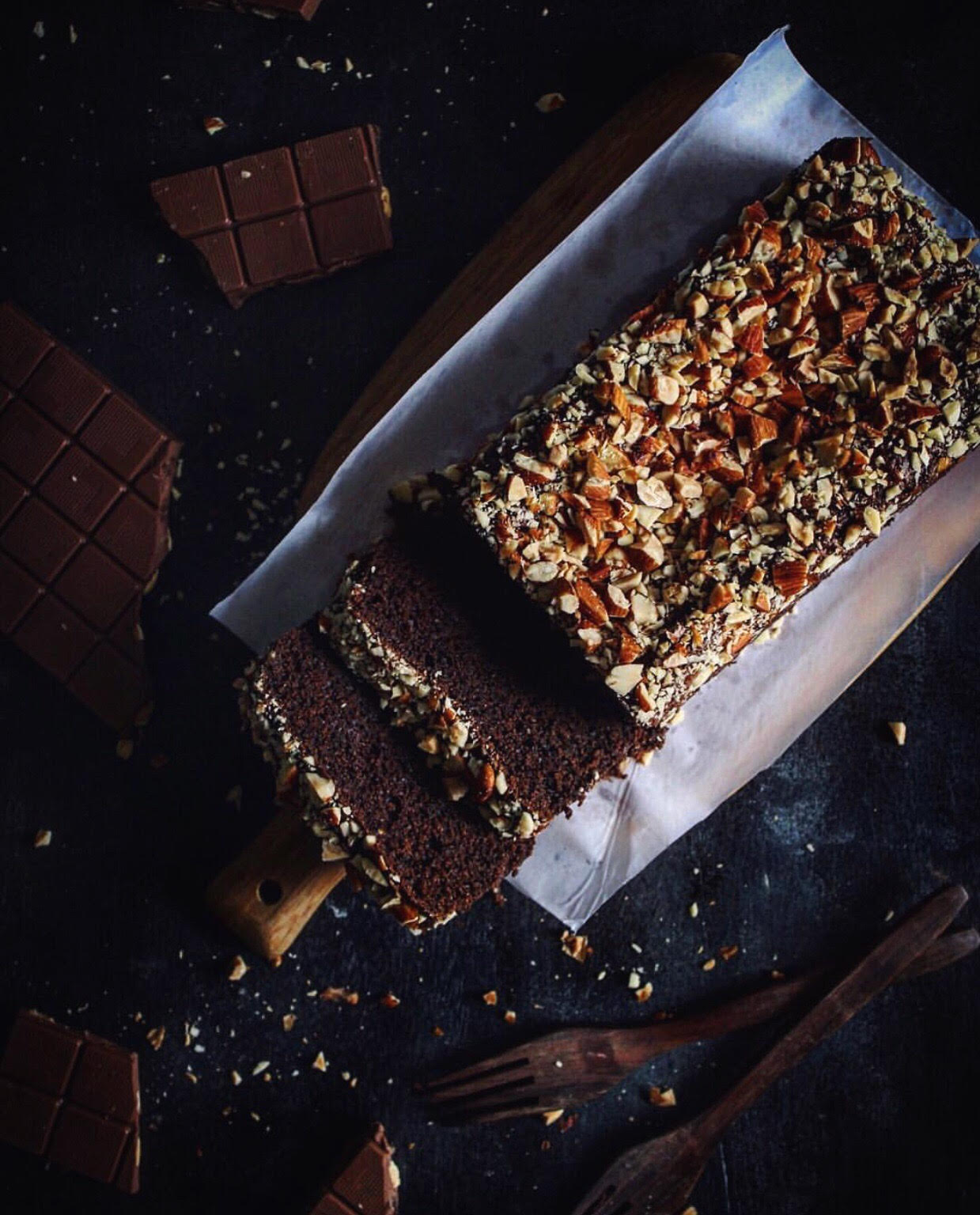 Chocolate is taking over the blog! It was the eggless mini chocolate cakes two days back and today we have a whole wheat chocolate loaf cake. There can never be too much chocolate,right? This whole-wheat chocolate loaf cake is perfect for the weekend and I'm sure you'll fall in LOVE with the texture of this cake. I created this recipe using the olive oil from Olive Tree Trading. I recommend using oil in the recipe instead of butter because what olive oil does to the texture and moisture of the cake in this recipe is absolutely fantastic!
Now that we are talking about why I love this whole wheat chocolate loaf cake so much, besides the fact that it is chocolate (duh) is for it's layer of almonds! You know I love adding nuts to my cakes. Be it crushed pecans on my gluten-free banana bread or flaked almonds on my strawberry muffins– nuts add a bite and a texture to desserts that I love. That's exactly what I do with almonds there. I simply chop them roughly and spread an even layer on the top of the batter of this whole wheat chocolate loaf cake before baking it.
If you're looking at trying more chocolate cake recipes from the blog, here are my top favorites-
INGREDIENTS-
1 + 1/2 cups whole wheat flour
3/4 cups cocoa powder
1/2 tsp baking soda
1 tsp baking powder
3/4 cup olive oil
1 + 1/2 cups sugar
2 eggs
1/2 tsp vanilla extract
3/4 cup milk
½ cup roughly chopped almonds
PROCEDURE-
Pre-heat the oven to 170C. Prepare a loaf tin.
Whisk cocoa, flour, baking soda and baking powder into a bowl
In a large bowl, beat olive oil and sugar until the mixture is light and pale.
Add eggs, one at a time and mix well after each addition
Beat in the vailla.
Add the flour mixture to the wet ingredients alternating with milk, starting and ending with flour mixture. Beat until smooth. Do not over-mix
Pour the batter into the pan. Top with an even layer of chopped almonds.
Bake for 30 minutes or until a toothpick inserted in the centre comes out clean
The post WHOLE WHEAT CHOCOLATE LOAF CAKE appeared first on Bake with Shivesh.